Plus Size Shopping Guide!
Posted on June 20 2023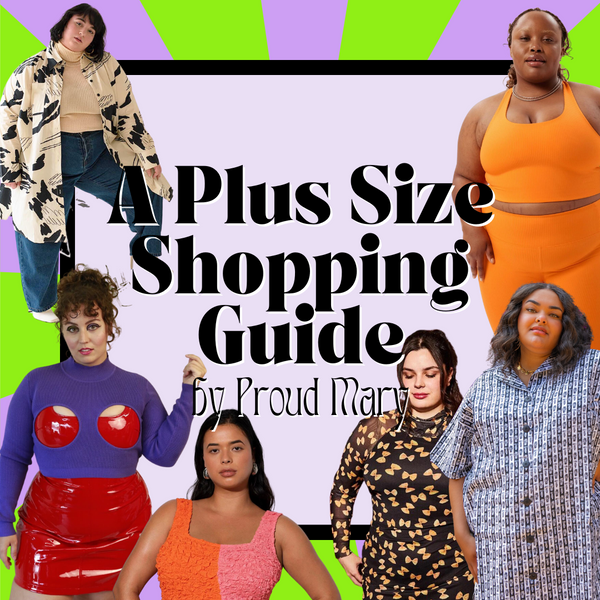 There have been a number of shopping guides published for plus size consumers over the years but with the industry constantly changing, there are brands coming and going on a consistent basis.
Over the last 5 years, the landscape has changed. There have been more fast fashion companies entering the plus size clothing arena while smaller businesses are always popping up.
Indie brands tend to inform the greater plus size fashion industry.
Styles and trends often trickle up from the talented small business community of curators and designers.
These smaller brands are also what moves the needle forward toward size inclusion, as larger brands don't tend to take the initiative to be on the forefront of change.
With this shopping guide, we hope to provide an ever-evolving resource.
There is an emphasis on small and indie brands below, as that is the center of our mission but we did include some larger mainstays as well. 
This list is specifically focused on sizes 16 and up. Some of the brands listed will be plus size while others may offer a full, inclusive size range.
Indie / Micro-sized Businesses 
Brand

Price Range

Size Range

Vibes

Website

$50 - $150, $$

XS-XL +Custom

Fun and whimsical serotonin dressing. They do custom sizing, which may take longer to receive.

$36-$125, $

S-6X, offers made to measure custom sizing

Custom-sized intimates, loungewear, swim, and more handmade in Portland, OR.

$38-$1,046, $$

XS-6XL

Classic cuts in a variety of prints and fabrications. While they have some custom silk pieces that are more luxury, most of their pieces fall under $168. 

Brownie Points (t-shirts + jackets)

$29-$112, $

Jackets - S-5XL

T-shirts - XS-3XL

T-shirts and jackets to show off your values with a groovy, 70s flare. Focus on sustainability and giving back to organizations that support women and people of color.

$42-$248, $$

1X-6X

Vintage textiles sing and shine in this line of ruffle collars, jackets, dresses, and tops that look and feel like a hug. Conscious consumerism at its best.

$36-$228, $$

1X-7X

Attention to fit techniques and incredible textiles in pieces and prints with attitude. 

$95-$725, $$$

10-28

The impeccable fit and statement making prints and colors will have you feeling effortlessly chic.

$12-$110, $

Small-7XL

A new brand out of Chicago offering cute short sets, fat friendly towels, and cross body straps that fit up to a 7XL.

$32-$312, $$

XXS-4XX, offers made to measure custom sizing

An explosion of color and texture in dreamy and comfortable silhouettes. All pieces are handmade-to-order in Phoenix, AZ.

$40-$80, $

S-4X

Celebrating what makes you you in 90s inspired, colorful pieces for everyday. Quality at an accessible price.

$26-$117, $$

0-28

Timeless, closet staples made with sustainability and ethics in mind.

$78-$230, $$

XS-XXXXL

Made-to-order, slow fashion built on a foundation of inclusivity. Airy, light, and thoughtful.

$80-$550, $$$

0-30

Modern and thoughtful clothing meant to empower you and your unique body.

$18-$148, $

1X-6X, t-shirts XS-4XL

Thoughtfully curated secondhand pieces of your dreams and an in-house line of pieces that pop! Truly a little something for everyone.

$

Custom and upcycled clothing items with a tie dye flair.

Clothing $35-$42, Jewlery $17-$45 $

S-6XL

Artsy, statement making t-shirts and jewelry filled with big feelings.

$30-$80, $

XS-5X, some pieces in 6X

Smart, colorful, everyday pieces made to *actually* fit your body as you are.

$70-$355, $$

M-4XL

Stylish clothing and durable accessories pieces built to last and work for your daily life.

$56-$198, $$

XS-6XL

Ethical and sustainable clothing with a dreamy feel.

$24-$158, $

All items listed by measurement

Secondhand, upcycled, and original pieces drenched in groovy vibes.

$32-$77, $

Original pieces 2XS-6XL, t-shirts XL-5XL

Bold, bright, and punchy alternative brand featuring bold prints on classic silhouettes.

$28-$250, $$$

S/M-6X

Small batch, ethically handmade pieces that are thoughtful and polished.

$59-$209, $$

1X-3X

Clothing collections that tell a story made in limited batches.
Small Businesses
| | | | | |
| --- | --- | --- | --- | --- |
| Brand | Price Range | Size Range | Vibes | Website |
| Big Bud Press | $48-$275, $$ | XXS-6XL | Everyday staples with a retro vibe made primarily in cotton fabrics. | |
| Christy Dawn | $198-$348, $$$ | XS-3X, 0-16 | Soft and floaty line of dresses in extended sizes. | |
| Fashion Brand Company | $44-$598, $$$ | XS-5XL, sometimes XXS-7XL | An eclectic mix of quality staples and pieces of fashion art for the bold and silly. | |
| Gia IRL | $84-$160, $$ | L-5X | Trendy pieces in dreamy colors made with plus size bodies in mind. The beauty is in the details. | |
| Miaou | $195-$545, $$$ | 1X-4X, runs small | Fashion corsets and fitted tops that scream Y2K revival. | |
| Nooworks | $34-$218, $$ | XS-5XL, varies per style | Quirky art and quality come together in these basics for the bold. | |
| Samantha Pleet | $180-$360, $$ | XS-5X | Prints and styles that feel like you've walked into a dream of florals abstract feelings. | |
| Shop Tunnel Vision | $32-$260, $$ | XS-5X, some pieces in XXS-7X, some styles run small | A mix of vintage pieces and an alternative houseline with attitude. | |
| Tuesday of California | $50-$160, $$ | XXS-7X | Moody pieces with personality inspired by the art of Tuesday Bassen. | |
| Universal Standard | $18-$373, $$ | 00-40 | One of the most expansive and size inclusive brands. Offering elevated staples  | |
| What Lo Wants | $12-$70, $ | 14-32 | Modern and thoughtful twists on everyday staples with a focus on affordability. | |
| Wray NYC | $75-$315, $$ | XXS-6XL | Thoughtful pieces with a New York influence inspired by fine art. | |
Vintage & Secondhand
| | | | | |
| --- | --- | --- | --- | --- |
| Brand | Price Range | Size Range | Vibes | Website |
| Cake Resale | $20-$52, $ | 1XL-6XL | Plus-size resale store in Minneapolis, MN, offering styling sessions, online sales, and more. | |
| Curve Conscious | $10-$40, $ | XL-5X | Online, plus-size resale store offering virtual buying appointments. Based in Philadelphia, PA. | |
| Ethical Bodies | $10-$84, $ | XL-5X | Plus-size vintage and secondhand sold online and in person at markets. A focus on color, pattern, and fun details. Based in St. Louis, MO. | |
| Every Sunflower PDX | - | - | Vintage and secondhand goods brought to you from Nicholle, Leu, Simcha, and Beau. Shop to come! Support their efforts to bring a inclusive space to Portland, OR! | gofund.me/bd097653 |
| Goldie's Vintage | $16-$358, $$ | All items listed by measurements | Online vintage seller with a focus on 60s and 70s pieces. Shop on etsy, depop, and instagram stories. | |
| Heavy Duty Vintage | $22-$128, $ | XL-5X | Curated collection of vintage and secondhand clothing for fat folks based in Seattle WA.  | |
| Indian Summer Vintage | $20+, $ | Size Inclusive | Vintage and pre-loved pieces curated in Seattle, WA. Keep up with where they're available on their instagram! | |
| Magma Vintage | $16-$75, $ | Size Inclusive | 90s and Y2K maximilist vintage popping up around Southern California. | |
| I Want Seconds | $ | XL-5X+ | Plus-size secondhand store in Portland, OR. Online store coming soon! | |
| More Than Your Average | $35-$78, $ | L-6X | Online, plus-size, vintage shop out of Washington D.C.. Colorfully curated pieces for all. | |
| Plus BKLYN | $25-$75, $ | XL-5X+ | A mix of vintage and modern plus-size pieces online and in their Brooklyn, NY brick an mortar. | |
| Proud Mary Fashion | $12 - $78, vintage pricing varies, Sales racks in store, $ | 12+ | Thoughtfully curated vintage pieces from 1950's - Y2K. Online and in-store in Highland Park, CA. | |
| Secondhand Stare | $3-$70, $ | S-7X | Secondhand store selling colorful and cheery pieces out of Northeast Ohio. | |
| Shop Bad Moon | $14-$200, $$ | M-5X+ | Witchy and nostalgic, alternative secondhand online shop out of Seattle, WA. | |
| Shop Berriez | $35-$250, $$ | S-4X+ | Colorful, funky, and sexy vintage pieces available online or in person by appointment at their studio in Brooklyn, NY. | |
| Shop Tunnel Vision | $32-$260, $$ | XS-5X, some pieces in XXS-7X, some styles run small | A mix of vintage pieces and an alternative houseline with attitude. | |
| Two Big Blondes | $18-$198, $ | L-9X | Secondhand resale and consignment store in Seattle, WA. Shop in-store or online! | |
Intimates & Swim
| | | | | |
| --- | --- | --- | --- | --- |
| Brand | Price Range | Size Range | Vibes | Website |
| Alpine Butterfly Swim | $40-$180, $$ | XS-6X | Luxury, made to order swimwear released in small batches. Whimsical and dreamy styles. | |
| Chub Rub Clothing | $80-$95, $$ | XL-6X | Waterproof intimates made for the bedroom or the pool. Designed with the various shapes fat bodies come in in mind. | |
| Curvy Beach | $69-$72, $ | L-4X | Specializing in string bikinis to cover a wide variety of bust sizes. Patterns and styles themed by decade. | |
| Curvy Couture Intimates | $18-$65, $ | 34 DD-46 G, M-4XL+ | Bras, bralettes, and underwear for everyday. | |
| Girlfriend Collective | $18-$118, $$ | XXS-6XL | Modern and cool,inclusive activewear brand focused on sustainable and ethical production. | |
| Harper Wilde | $40-$55, $$ | XS-4X | Simplified essential bra styles for everyday. | |
| Shop ARQ | $24-$92, $$ | XXS-6X | Simple and comfortable underwear, bras, tanks and more made for daily wear. | |
| Snag Tights | $11-$61, $ | 1-34 | Durable tights, chub rub shorts, and more in an extensive size range. | |
| Superfit Hero | $40-$115, $ | L-7X | Premium activewear created to move with you and be functional. | |
| Swimsuits for All | $32-$120, $ | 12-40, not all styles available in full size range. Larger sizes seem to be available in mostly modest styles. | Large style selection from bikini to more modest swim dresses.  | |
| Teggings | $28-$54 | 1X-5X | Stretchy and soft foundational pieces for everyday outfitting. Chlorine resistant fabric offers SPF 70. | |
Luxury
| | | | | |
| --- | --- | --- | --- | --- |
| Brand | Price Range | Size Range | Vibes | Website |
| Bacaal | $210-$540, $$$ | 10-28 | Sustainability and high end style merge in this collection of luxury pieces. | |
| Christian Siriano | $895-$7800, $$$$ | 0-30 | Old school glamour and modern design shine in ready to wear by Christian Siriano. | |
| Dyspnea | $84-$420, $$ | XS-5XL | Sexy sparkles, beads, and lots of sheer pieces for the most daring. | |
| Ganni | $95-$595, $$$ | XXS-4XL, 0-22 | Danish contemporary brand with a focus on being responsible over sustainable. | |
| JessaKae | $98-$299, $$ | XXS-6X | Dresses and separates that feel like a fairytale. | |
| Loud Bodies | $97 -$865, $$$ | XXS-10X | Whimsical clothing in solids and flowery prints. Truly inclusive sizing, made ethically. | |
| Mara Hoffman | $140-$750, $$$ | XXS-3X | Thoughtfully designed ready to wear and swimwear from a sustainably conscious framework. | |
| Marina Rinaldi  | $87-$1235, $$$$ | 4-24 | Elevated, luxury pieces for any occasion. | |
| Morgan Eliz | $100+, $$ | Custom | Custom fitted garments in sexy, elevated classic silhouettes. | |
| Rachel Antanoff | $175-$325, $$ | XS-3X, 0-26 | Irreverent prints and patterns on pieces built to go from day to night. | |
| Sante Grace | $125 - $675, $$$ | 1XL - 4X, Sizing offerings vary  | | |
| Selkie | $55-$969, $$$ | XXS-5X | Whimsical and romantic ready to wear for the dreamiest occasions. | |
| Tamara Malas | $28-$250, $$$ | S/M-6X | Small batch, ethically handmade pieces that are thoughtful and polished. | |
| Tyler Mcgillivary | $65-$285, $$ | XS-4XL | Modern, artistic, and creative styles for the most playful of dressers. | |
| Wray NYC | $75-$315, $$ | XXS-6XL | Thoughtful pieces with a New York influence inspired by fine art. | |
Plus Size Jewelry
| | | | | |
| --- | --- | --- | --- | --- |
| Brand | Price Range | Size Range | Vibes | Website |
| Automic Gold | $9-$3300+, $$$$ | Ring size 2-16 | Wearable and thoughtfully designed jewelry made of reclaimed gold, platinum, and silver. Custom jewelry available. | |
| Reeseabobeesa | Clothing $35-$42, Jewlery $17-$45, $ | S-6XL | Artsy, statement making t-shirts and jewelry filled with big feelings. | |
Large Brands/Big Box Stores
| | | | | |
| --- | --- | --- | --- | --- |
| Brand | Price Range | Size Range | Vibes | Website |
| ASOS Curve | $20+, $ | 16-28 | Fast fashion with both trendy and fashion-forward pieces. Has become a plus size staple. | |
| Avenue | $23-$143, $ | 12-32, not all styles available in full size range | Styles similar to Lane Bryant. Casual and dressier offerings. Seems to now be affiliated with City Chic. | |
| Catherine's | $30+$ | 0X - 6X | Affordable clothing in more modest cuts and prints. Owned by the same company that owns Roaman's and Woman Within. | |
| Cider | $20+, $ | 0X - 4X | Fast fashion with trendy clothing. Claims to have a responsible supply chain but employs a very low pricing model and consistent new releases. Read more: https://www.shopcider.com/sustainability | |
| City Chic | $29-$215, $$ | 12-24 | Australian based brand with styles reminiscent of torrid, eloquii, and lane bryant. Some wedding styles available. Available online and in some department stores like Macy's and Nordstrom. | |
| Eloquii | $59-$599, $$ | 10-32 | Chic pieces and quality construction. Runs sales often. Recently introduced bridal. Owned by Wal-mart. | |
| Fashion to Figure | $15-$199 | 0X-4X | Trendy styles. Often partners with influencers for exclusive design collabs. | |
| Lane Bryant | $50+, $ | 10-40, not all styles available in full size range | Plus size mainstay that's been around the 60's. Offers more modest styles, swim, and fan favorite intimates. | |
| Never Fully Dressed | $92-$230, $$$ | 2-24 | Fashion-forward prints and sexy silhouettes. Perfect for date night, nights out with friends, or vacation. | |
| Old Navy | $20+, $ | XS-4X | Plus size mainstay in classic styles. Lots of summery dresses, jeans, and activewear. Owned by Gap, Inc. | |
| Torrid | $32-$350, $$ | 10-30 | Plus size mainstay. Lots of novelty and disney prints. Fan favorite denim and bras. | |
| Woman Within | $30+, $ | 14-40 | Affordable clothing in basic cuts. More modest styles. Owned by the same company that owns Catherine's and Roaman's. | |