Proud Mary X We Love Colors Spring Lookbook
Posted on February 26 2020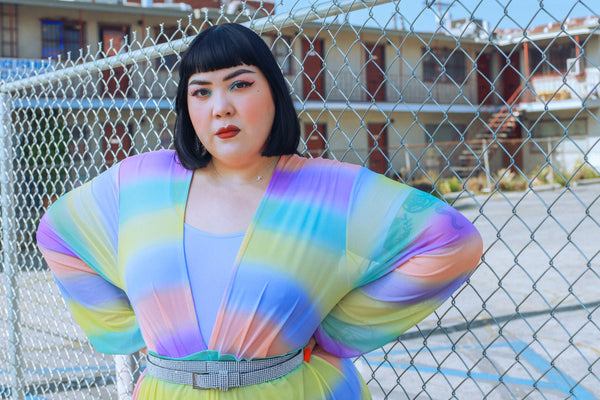 This Spring fashion lookbook was created in collaboration with our friends, Miami-based brand, We Love Colors. They offer hosiery, dancewear and more in a wide range of sizes, with some of their tights going up to an 8X.
We joined with We Love Colors to show you how to style some of our original and vintage pieces using their bold hosiery and dancewear. 
Follow us for more style inspiration or stop by our shop in Los Angeles! For more We Love Colors, visit them here.
Check out outfit details on each photo below!
Psychedelic Poncho Available here.
We Love Colors:
Gloves: Style #3607 and Microfiber tights Style #1503 in purple.
We Love Colors:
Bodysuit Style #5013 and Knee-high socks Style # 1531 in Lilac
We Love Colors knee-high socks in Lilac
Proud Mary slip dress, vintage linen blazer, and patent leather handbag. All available in-store. 
We Love Colors Glitter Fishnets in White