Welcome to Proud Mary!
Posted on November 18 2018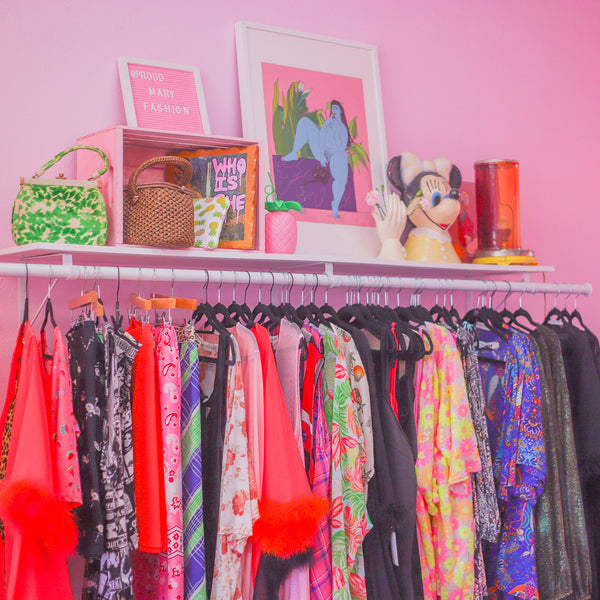 With our new store and website launching recently, I wanted to make an introduction post because not everyone is familiar with Proud Mary's origin story. I get asked every day if I'm Mary. I'm not Mary but she was very important to me. Proud Mary is named after my grandmother. Mary Lare was a force. She was all of 5 foot tall and was quick to remind you she was in charge. Mary had a wild sense of style. She would take me thrifting and let me buy the weirdest thing I could find. On birthdays she'd send the tackiest presents that I was too young to appreciate. She was fearless. Not just in her style but in her life. No one messed with her.
When I began selling vintage, I knew my name was going to be so important. I wanted to pay homage to the person that taught me about style, about not following the rules and about finding treasures when you only had money for trash. Every family gathering we'd play two songs for my grandmother: Crazy and Proud Mary. Those were her songs. And I knew that it just fit.
I always wanted to work in Fashion. I had a vintage pop up shop for years but I wanted to be more serious. Having a plus size clothing line was always my end goal and I had been involved in the body positive movement, which I wanted to continue to work within. I knew a brand was my way to join those passions. But with no formal education and no idea where to start, I reached out to other small business owners for advice. Everyone kept telling me the only way to start was to start. So I did. I jumped into plus size retail and quickly realized that I needed to figure out how to produce original pieces.
Our Luxe Robes
We headed west, first stopped in Vegas for a bit and then Los Angeles. We hooked up with some friends to rent some space in their shop. We set down some roots and started meeting the plus size community here in LA. Slowly but surely we started working on adding original and custom pieces to the store. It made me so happy to create cool things for fat babes.
Mural by Theresa Baxter
When a small storefront in our neighborhood came available, I knew it was time to branch out and have our own space. Though it was really scary to venture out on our own, I knew that there wasn't a point in playing it safe forever. So we jumped at the chance and started designing. What came about was the shop of my dreams.
You see, I don't want a shop that's cute for a plus size shop. I want a shop that's just CUTE AF. We deserve thought out spaces with good aesthetics and fun atmospheres that are our own. So often we're delegated to a dusty corner of a department store with one sad rack of clothes up to a junior's 3X. I know there are other great indie brands that have been pushing against that. And I wanted to create a space where you can shop, hang out, enjoy the atmosphere and be comfortable being yourself. 
Some of our accessories. See more online here!
Proud Mary is growing. We are constantly improving the offerings and the shopping experiences. I am extremely proud of the brand we've pushed forward without any investment. That's huge! And I am honored to have a space I can welcome people to that shows everything we're about: expressing yourself without fear. I think my grandmother would welcome you here and pick out the wildest thing on our racks to make you try on.
Come see us in Highland Park at 5335 N Figueroa St Los Angeles, CA 90065. We are open Weds-Sunday 12-7 and by appointment. Keep your eyes peeled for our line to grow, our website to have more options and cool collaborations!
Thank you to our community. We wouldn't be able to do what we do without your support. Keep getting the word out! We love being able to make out of the box clothing that allows you to feel great in your skin.
xx
Jessica